We make the most of your potential!
Our main sales channel is our web portal entradas.com, through which you can reach your target audience directly.
Through this channel, we sell tickets for all types of shows, events and venues, which allows us to have a database of buyers from all over Spain and of all ages with interest in different verticals and categories within the live industry. We will impact the most relevant audience for your event to multiply sales.
Key figures:
80% of sales by own channels.
Personalisation of the main homepage for each user. Website optimised for conversion.
Loyal users throughout Spain, of all ages, with cross-selling between verticals.
2M€ in annual marketing investment: affiliation, online and offline marketing.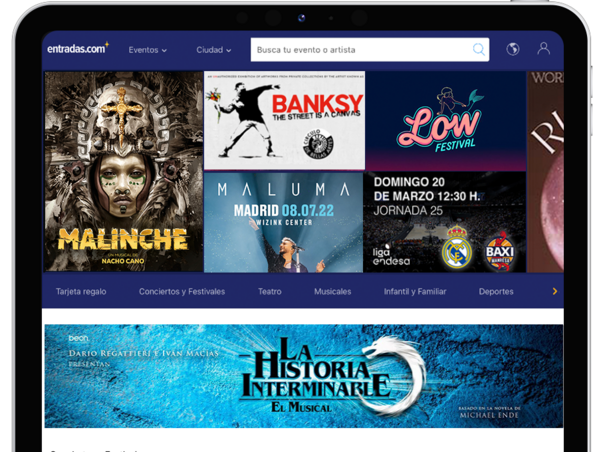 Open API channel in B2B channels
Do you need to reach more customers? We guide you and select the best channels according to the type of your events.
B2B sales channel: Online and offline sales through the more than 2,500 post offices and points of sale of Fnac's network of physical stores.
Tourism partners: We have a network of more than 9,000 agencies that distribute nationally and internationally, offering unique experiences.
International distribution: We have an extensive B2B and B2C distribution network in the international market with presence in the main countries of Asia, America and Europe.
Hotel sales: We have agreements with a wide range of hotels for the sale of tickets. We carry out specific actions to promote events from hotels.